This walk takes in part of the central section of the West Island Way. It has an upland feel about it, even though the highest altitude reached is less than 300 feet. Start in Ardbeg at the foot of Gortons Road (GR NS082669). A short distance up this road, and after a sharp turn to the right, it takes a 90 degree turn to the left and then climbs up into open country. The verge has very much a late summer feel to it, with the abundant thistle-like flowers of Knapweed and the umbellifer Angelica, now beginning to go over; further along, as you approach Gortons Farm, there is a stretch where Spearmint is well established.
Wild Angelica
Spearmint
Gortons Farm
It's been a wonderful summer for butterflies here on Bute as elsewhere. I saw these two, a Small Tortoiseshell and a Peacock, on the track leading to Gortons, both feeding on Knapweed.
Small Tortoiseshell butterfly on Knapweed
Peacock butterfly on Knapweed
Just beyond the farm you join the West Island Way. Turn right onto a pleasant grassy footpath that runs alongside a newly established plantation. Look out here for the amusingly-named Sneezewort. Less common than its close relative Yarrow, its name reflects its former medicinal use as a sneezing powder.
Sneezewort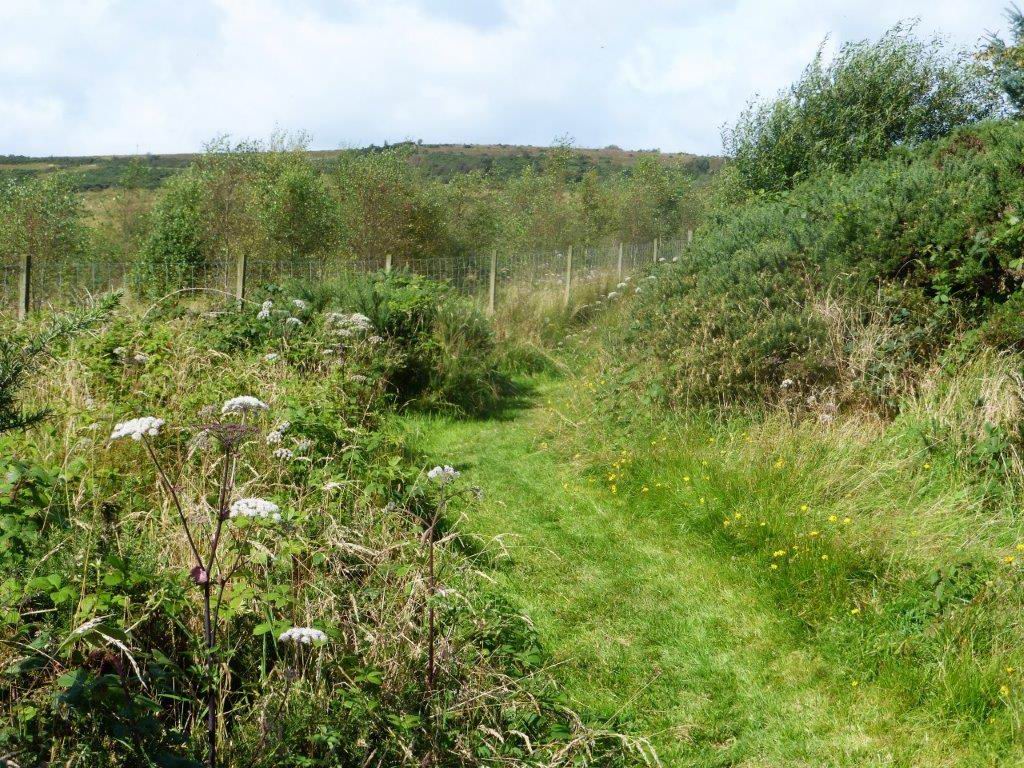 A short distance after crossing over a footbridge, the path takes a 90 degree turn into a tree-shaded avenue, bordered by cleared woodland on the right.
The track now descends through a couple of gates (to protect new plantings from deer) onto the Golf Course road in Port Bannatyne. My usual 'species in flower' list (see below) ends here.
You now have a number of options: to return to your starting point by turning right and then following the track that runs through the grounds of the former Kames Hydro, just above and parallel to the main road; or to turn left for a short distance before cutting down along a footpath to the Port Bannatyne seafront and returning beside the shore; or perhaps to continue along the West Island Way until you reach the Ettrick Bay Road (see Walk 2).
Species in flower include:
Autumn hawkbit

Scorzoneroides autumnalis

Bramble
Rubus fruticosus

agg.

Broad-leaved Willowherb

Epilobium montanum

Bush Vetch

Vicia sepium

Butterfly Bush

Buddleja davidii

Cat's-ear

Hypochaeris radicata

Common Bird's-foot-trefoil

Lotus corniculatus

Common Hemp-nettle

Galeopsis tetrahit

Common Nettle

Urtica dioica

Creeping Buttercup

Ranunculus repens

Creeping Thistle

Cirsium arvense

Daisy

Bellis perennis

Foxglove

Digitalis purpurea

Greater Bird's-foot-trefoil

Lotus pedunculatus

Heather

Calluna vulgaris

Hedge Bindweed

Calystegia sepium

Hemlock Water-dropwort

Oenanthe crocata

Herb Robert

Geranium robertianum

Himalayan Honeysuckle

Leycesteria formosa

Knapweed

Centaurea nigra

Lesser Spearwort

Ranunculus flammula

Marsh Ragwort

Senecio aquaticus

Marsh Thistle

Cirsium palustre

Marsh Woundwort

Stachys palustris

Meadow Vetchling

Lathyrus pratensis

Meadowsweet

Filipendula ulmaria

Montbretia

Crocosmia x crocosmiflora

Nipplewort

Lapsana communis

Ragwort

Senecio jacobaea

Red Campion

Silene dioica

Red Clover

Trifolium pratense

Rosebay Willowherb

Chamerion angustifolium

Selfheal

Prunella vulgaris

Sneezewort

Achillea ptarmica

Spear Mint

Mentha spicata

Tormentil

Potentilla erecta

Tufted Vetch

Vicia cracca

Wild Angelica

Angelica sylvestris

Wood Avens

Geum urbanum